The Southern Bookseller Review Newsletter for the week of October 24, 2023
The week of October 24, 2023
Meet Third House Books!
As it says in the very fine print way down at the end of this newsletter, The Southern Bookseller Review is a project of the Southern Booksellers Alliance, an organization that supports and advocates for independent bookstores in the Southeastern US. SIBA represents about 500 indie bookstores across the South. They ranged from large stores with multiple locations to tiny mom-and-pop businesses and even pop-up enterprises that go where they are needed or wanted. The most wonderful thing? Every single one is a unique place with its own personality. And every indie bookstore has its own story:
Profile by Candice Huber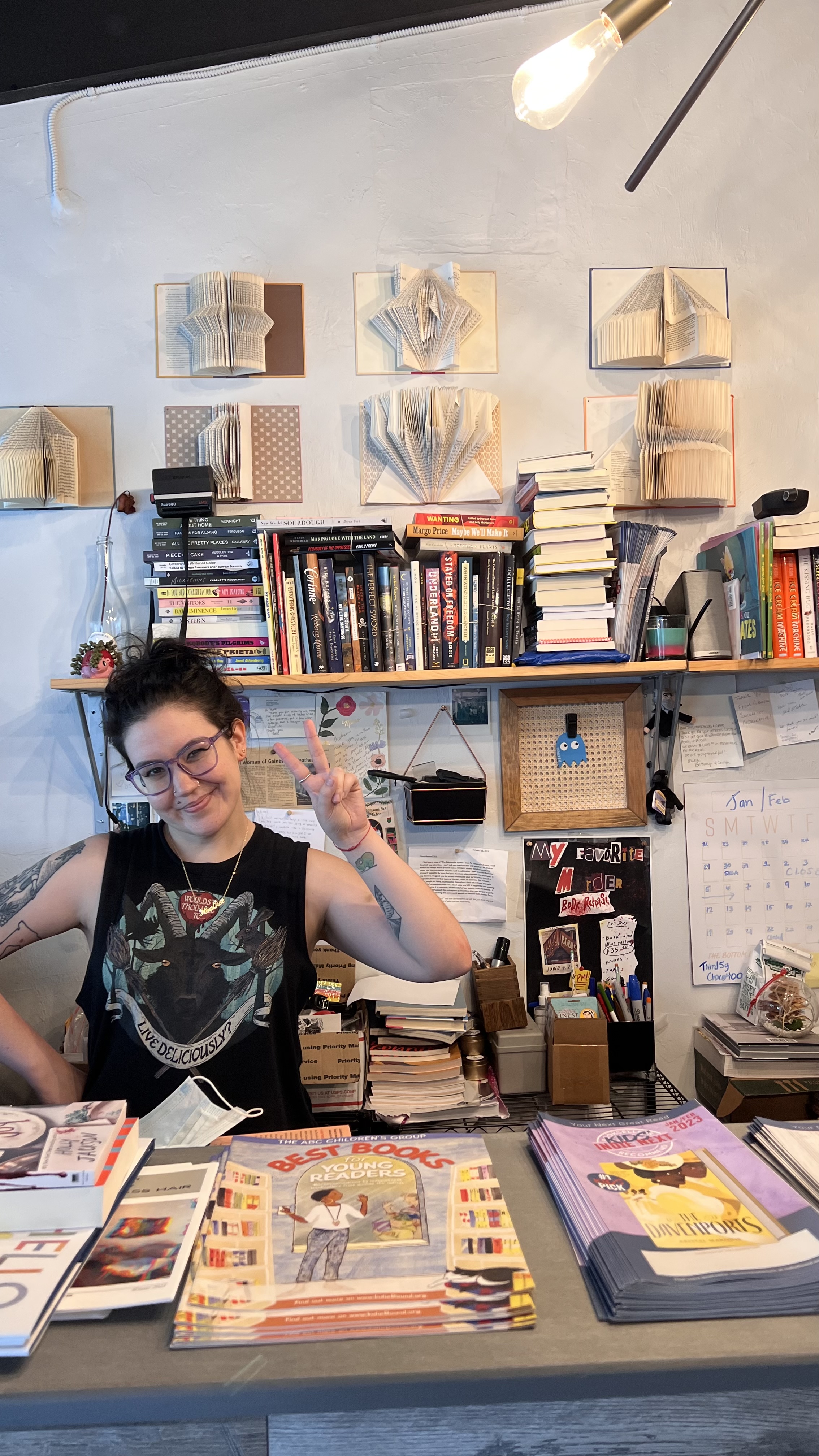 Third House Books, located in Gainesville, FL, describes itself as a small bookstore that specializes in titles from small independent presses and marginalized voices. Their small inventory (no more than 400 titles) is intended to allow customers to browse nearly every title in a relatively short amount of time without becoming overwhelmed.
Founded by Kiren Valjee, Third House Books was built upon an important lacking in the community: a safe space to read, gather, learn, and recharge. It opened on October 28, 2016 – a turbulent time – but has endured. The current owner is Heather Halak, who, like many SBR stores, is a one-person show. She worked in the music industry before accidentally owning a bookstore and being into punk is inextricable from what she does at the shop, selling zines, music books, and having events for both.
Heather's favorite handsell of the year is Matrix by Lauren Groff, who is a local author for Third House Books. Heather says, "Matrix is queer, weird, and a little creepy in all the right ways. I also went to Catholic school for 10 years and I admittedly have a fascination with nuns. Marie is written in a way that is both inspiring but makes me afraid of some of my own power hungry proclivities. Groff's research was rich, obsessive, and tenacious and it's obvious in her writing."
As far as Heather's personal favorite books, she named Jane Eyre and Frankenstein as her favorite classics, and she said that she read House on Mango Street by Sandra Cisneros in high school, and it was the first book to make her proud to be Latina.
You can follow Third House Books on Instagram @thirdhousebooks
Read This Now | Read This Next | Book Buzz | The Bookseller Directory
---
---
---
Read This Now!
Recommended by Southern indies…
Let Us Descend by Jesmyn Ward
Scribner / October 2023
Adult Fiction, Literary
More Reviews from Cavalier House Books
An October Read This Next! Book
History, family, community, and the all encompassing power of life in the face of brutality are abundant in Ward's work, no less here in Let Us Descend. I was floored by the story of Annis, a young woman enslaved and sold down to a Louisiana plantation. Through her connections (both physical and spiritual), Annis builds a life and a future beyond loss. With a slight twist of magical realism and always brilliant prose, Jesmyn Ward has delivered another amazing novel and gift to readers.
Reviewed by Michelle Cavalier, Cavalier House Books in Denham Springs, Louisiana
Bookseller Buzz
Spotlight on: The House of Doors by Tan Twan Eng
In my teenage years, when I first read Somerset Maugham's The Letter, I was intrigued to discover that he had based it on Ethel Proudlock's trial in Kuala Lumpur in 1911. She was the first white woman to be charged with murder in Malaya. She claimed that the man she had shot dead had tried to rape her in her home.
The House of Doors is about many things, but at the heart of it all, it is really about the acts of creation: how Maugham had come to hear about the trial, and how he had transmuted it into his story. It's about the power of stories, how they can transcend cultures and borders, transcend even time itself.
― Tan Twan Eng, Interview, The Booker Prizes
What booksellers are saying about The House of Doors
I walked the streets of Penang along side Somerset Maugham. I felt the rough paths beneath my feet, as the clatter of Mah jong tiles fell from a doorway. We were on our way to the House of Doors. My fingers caressed the worn wood of its front door. But neither of us gained entry. Entry was reserved for others. This is a rare book. All my senses were captured by Tan Twan Eng. The pages glowed with atmosphere as the story propelled me into the lives of Cassawary House. Best book I've read this year.
  ― Trish O'Neill, MacIntosh Books & Paper in Sanibel, FL | Buy from Macintosh Books & Paper


Gorgeously written with strong characters telling the tale of Malaysia between the two wars. Who knew I needed to know all of this. We sometimes focus on what happened to us. This story will get right under your skin. I am a huge fan of Somerset Maugham and loved this story that drops him in there. Based on real events you are invited into this world and you won't be the same!
  ― Suzanne Lucey from Page 158 Books in Wake Forest, NC | Buy from Page 158 Books


Nobody transports a reader in time and place like Tan Twan Eng. Bringing the same beautiful, lyrical writing as he did in The Gift of Rain and The Garden of Evening Mists, he sends readers back in time to 1921 when writer Somerset Maugham arrives in Penang at a crossroads in life. The House of Doors reads like a magical look back in time into the life of one of my favorite writers as well as an entirely new story whose layers unfurl one a time, revealing an overlapping web of love, friendship, power and more.
  ― Beth Seufer Buss from Bookmarks in Winston-Salem, NC | Buy from Bookmarks

About Tan Twan Eng
Tan Twan Eng was born in Penang but lived in various places in Malaysia as a child. His first novel, The Gift of Rain, was long listed for the 2007 Man Booker. His second, The Garden of Evening Mists, was a major international bestseller, shortlisted for the 2012 Man Booker, and winner of the Man Asia Literary Prize 2012 and the Walter Scott Prize for historical fiction. It was adapted into an award-winning film in 2019, directed by Tom Lin. Twan divides his time between Malaysia and South Africa.
Murder and Mamon by Mia P. Manansala
Berkley / September 2023
Adult Fiction, Asian American, Cozy, Culinary, Fiction, Mystery & Detective, Women Sleuths
More Reviews from Bookmiser
More fun and intrigue await in Manansala's newest mystery with our favorite Filipino baker. Lila and her godmothers are back on the scene. The Calendar Crew (April, Mar, and June) are opening up a new laundromat, but their main competition is furious about the development. And their gossiping ways have another townsman blaming them for the breakup of their marriage. So when the laundromat is vandalized, those are the two main suspects. But when April's niece is found dead in the laundromat, things just got a little more serious. This time, Lila will have to call on all her friends to break the case.
Reviewed by Jennifer Jones, Bookmiser in Marietta, Georgia
---
---
Good Books for Bad Children by Beth Kephart
 Anne Schwartz Books / September 2023
Biography & Autobiography, Children, Juvenile Nonfiction, Literary
More Reviews from Avid Bookshop
Most of our beloved classic children's authors (think Maurice Sendak, Margaret Wise Brown, Shel Silverstein, E. B. White, John Steptoe, and so many more!) have books in the world thanks to efforts of one formidable woman—Ursula Nordstrom. This brilliant biography displays her awesomely unorthodox approach to children's literature and her wily sense of humor, all while celebrating the unique books she ushered into the world.
Reviewed by Hannah DeCamp, Bookseller, Avid Bookshop in Athens, Georgia
Nothing Else But Miracles by Kate Albus
Margaret Ferguson Books / September 2023
Childrens, Halloween, Holidays & Celebrations, Juvenile Fiction
More Reviews from The Little Bookshop
Another heartfelt, historical home run from Kate Albus! Three kids left to fend for themselves while their dad is away fighting the war, a secret abandoned hotel with a treasure no one knows about, and a special friendship with the Statue of Liberty all work together to make this story of family, community, and grit one of my favorite fall reads! You can't help but root for the Byrne kids as they stick together to make it through the difficult times of WWII. This is guaranteed to be a favorite for everyone.
Reviewed by Mary Patterson, The Little Bookshop in Midlothian, Virginia
If You'll Have Me by Eunnie
Viking Books for Young Readers / October 2023
Comics & Graphic Novels, Romance, Young Adult Fiction
More Reviews from Flyleaf Books
In her first year of university, kind, anxious, people-pleasing Momo develops a crush on PG, an unattainable player known for her many one-night stands. The two gradually develop a flirty friendship, but can they let their guards down and allow love to bloom? A likable, cute WLW graphic novel, recommended for fans of Heartstopper and other character-driven contemporary YA romance.
Reviewed by Talia Smart, Flyleaf Books in Chapel Hill, North Carolina

Six of Crows by Leigh Bardugo
Henry Holt and Co. BYR / April 2021
Action & Adventure, Banned Books, Fantasy, Young Adult Fiction
More Reviews from Epilogue Books
With Six of Crows, Leigh Bardugo created a perfect blend of tense, tightly-plotted action and bold character work. The impossible heist the narrative centers around is exciting, and Bardugo's magical setting sets her plot apart from other heist stories. Her six protagonists, all of whom have their own compelling reasons to agree to such a dangerous job, are dense and rich, and their dynamics with each other are definitely the novel's greatest strength. The dialogue is sharp and the budding romances are impossible to not root for. Fans of fantasy, romance, mysteries, thrillers, and character dramas will absolutely find something to like in Six of Crows.
Reviewed by Sam Edge, Epilogue Books Chocolate Brews in Chapel Hill, North Carolina

---
Southern Bestsellers
What's popular this week with Southern Readers.
[ See the full list ]
---
Parting Thought
"Books are everywhere; and always the same sense of adventure fills us. Second-hand books are wild books, homeless books; they have come together in vast flocks of variegated feather, and have a charm which the domesticated volumes of the library lack. "


— Virginia Woolf, Street
SIBA | 51 Pleasant Ridge Drive | Asheville, NC 28805
You have received this email because you are currently subscribed to receive The Southern Bookseller Review.
Please click @@unsubscribe_url@@ if you no longer wish to receive these communications.