The Southern Bookseller Review Newsletter for the week of November 14, 2023
The week of November 14, 2023
Meet Blacksburg Books!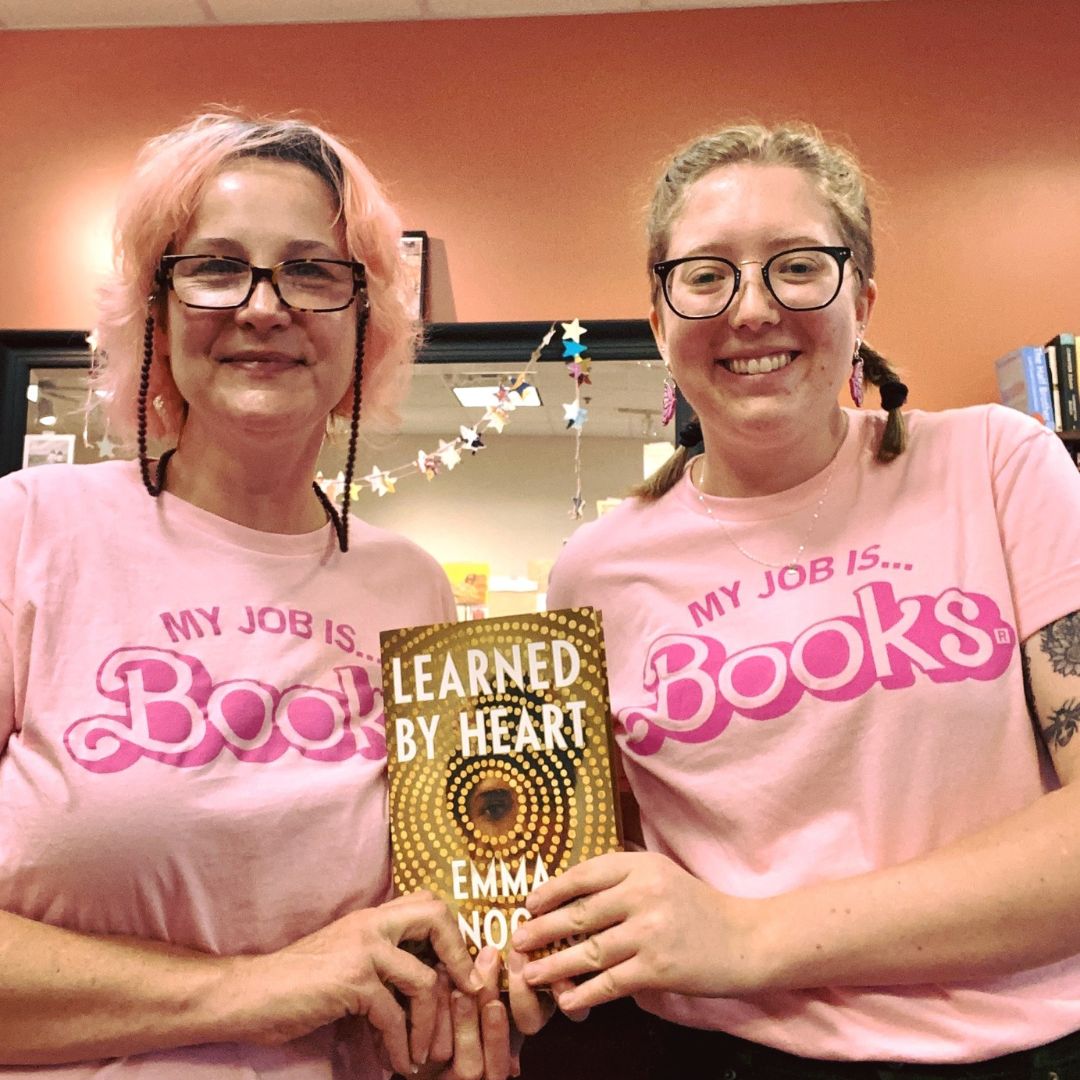 Profile by Candice Huber
Blacksburg Books in downtown Blacksburg, Virginia offers new and used books, locally-made drinks, snacks, and crafts, and a community space to browse, meet with friends, and find engaging new things to read and think about. In November 2020, owner Laurie Kelly mentioned in a local Facebook group that she was planning to open a bookstore in town, and the positive response was overwhelming. The bookstore opened its doors in August 2021.
Store Manager Ellen Woodall said that the best thing about being a bookseller is making recommendations. Ellen said, "The process of asking [customers] about their likes and dislikes, hobbies, interests, and then finding them the PERFECT book is one of the best things in the world."
Blacksburg does some really fun community projects. In their Community Poetry Project, they pick a different topic each week and ask customers to write a few lines in a notebook at the store. At the end of the week, they consolidate and edit those lines into a poem. They just published a book of the first year of poems. They also do "Field Trip Fridays," where they take a selection of books and snap photos of them at another local business, then post on social media. This is a way to highlight some of the other local spots in town as well as show off their favorite books. They have also donated over 300 new books to the Appalachian Prison Project.
About SBR, Ellen said, "The Southern Bookseller Review is super helpful to me when I'm ordering for the store. It's great to discover books that weren't on my radar and read what other booksellers liked about them."
You can follow Blacksburg Books on Instagram @blacksburg_books or on Facebook. Visit their website at https://www.blacksburgbooks.com/.
Read This Now | Read This Next | Book Buzz | The Bookseller Directory
---
---
---
Read This Now!
Recommended by Southern indies…
The Manor House by Gilly Macmillan
William Morrow / November 2023
Adult Fiction, Fiction, Psychological, Thrillers
More Reviews from The Book House
MacMillan has crafted a twisting, well-plotted, multiview point mystery that sweeps between timelines without ever disorienting the reader as to where they are in the story. It's an utterly readable tale of greed, avarice, and revenge. It reminded me in all the best ways of And Then There None, and MacMillan is fearless in revealing who each of her characters really are. Also? The ongoing subplot of the unreliability of smart home technology feels so current, relatable, and also informs the plot in surprising ways. Loved this book, can't wait to sell it.
Reviewed by Tracie Harris, The Book House in Smyrna, Georgia
Okra Stew by Natalie Daise
Henry Holt and Co. (BYR) / October 2023
African American & Black, Children, Cooking & Food, Family, Juvenile Fiction, People & Places, Southern Book Prize Finalist
More Reviews from The Country Bookshop
2024 Southern Book Prize Finalist
See all | Vote Now!
You can almost smell the salt marsh in this stunning homage to Gullah culture, father-son love, and Okra. With art reminiscent of Lois Ehlert or Faith Ringold this one is a must for all young southern foodies.
Reviewed by Angie Tally, The Country Bookshop in Southern Pines, North Carolina
Bookseller Buzz
Spotlight on: System Collapse by Martha Wells
I got this idea for what was going to be a sad, short story that was basically the plot of All Systems Red, about a SecUnit that basically had to expose the fact that it had hacked itself and was now free in order to save the people it was guarding. It was kind of—I've heard them called "attack novels" or "attack ideas" or "attack stories"—this overpowering idea that you want to write it right then. So I was just going to jot down some notes on what the story's plot was but ended up writing five pages of All Systems Red.
― Martha Wells, Interview, Monster Complex
What booksellers are saying about System Collapse
Nothing makes me remember how amazing science fiction is more than a Murderbot Diaries book. It reinvigorates my love for the genre every single time and makes me yearn for more. This installation just reaffirmed my love for Murderbot. The way they care for their humans and mission, and for doing the right thing- which for someone who is a "construct" and learning how humans and the world can be, is so heart warming and endearing. The story is not as fast paced as some of the others, but the way it builds to it is amazing. System Collapse really felt like a diary entry, but also an adventure. I can't wait for more adventure with Murderbot, ART, and their crews
  ― Preet Singh, Eagle Eye Bookshop in Decatur, GA | Buy from Eagle Eye Bookshop


Murderbot! Another great installment in the adventures of our favorite rogue bot. I also enjoyed that it also wasn't *just* another adventure; murder bot also wrestles with some very human consequences of trauma. As always, we're huge fans here at the store and look forward to more!
  ― Angela Trigg from The Haunted Book Shop in Mobile, AL | Buy from The Haunted Book Shop


There will never be enough Murderbot to make me happy. I could reread these books nonstop and it would never get old. Martha Wells is a genius and if you haven't been introduced to this series, you do not need to begin with the first to enjoy the majesty that is Murderbot.
  ― Jamie Southern from Bookmarks in Winston-Salem, NC | Buy from Bookmarks

About Martha Wells
Martha Wells has written many novels, including the million-selling New York Times and USA Today-bestselling Murderbot Diaries series, which has won multiple Hugo, Nebula, Locus, and Alex Awards. Other titles include Witch King, City of Bones, The Wizard Hunters, Wheel of the Infinite, the Books of the Raksura series (beginning with The Cloud Roads and ending with The Harbors of the Sun), and the Nebula-nominated The Death of the Necromancer, as well as YA fantasy novels, short stories, and nonfiction.
So Late in the Day by Claire Keegan
Grove Press / November 2023
 21st Century, Adult Fiction, Ireland, Literary, Short Stories (single author), World Literature
More Reviews from Page 158 Books
So Late in the Day is brilliantly written with Keegan's beautiful prose. The underlying theme in the stories is the fractured relationships between a man and woman, told with a nuanced tension that grips the reader from beginning until end. A quietly delightful, tense, and gripping read.!
Reviewed by Kelley Barnes, Page 158 Books in Wake Forest, North Carolina
---
---
Emperor of Rome by Mary Beard
 Liveright / October 2023
Adult Nonfiction, Ancient, History, Rome
More Reviews from Bookmarks
Mary Beard is a legend among historians, and a queen to history lovers. As both, I need everyone to know that this book is the perfect way to explore the psychology of what it meant to be THE Emperor of Rome. What it meant to the historical figures around them. Everything. It's such a fascinating look at such complex figures that we realistically only know a limited amount about due to how long ago Rome was, and how often their successors attempted to erase them from history, even casually so after their deaths. If you're looking for further exploration into the archetype of the Roman Emperor, you'll delight in this book.
Reviewed by Caitlyn Vanorder, Bookmarks in Winston-Salem, North Carolina
Gwen & Art Are Not in Love by Lex Croucher
Wednesday Books / November 2023
LGBTQ+, Romance, Young Adult Fiction
More Reviews from Parnassus Books
Fun, campy romance with big feelings! I loved everything about this! Reading helped me escape to a fantasy world of found family and hopeful self discovery. I loved the joint storylines, and both romances were so swoon worthy.
Reviewed by Rachel Randolph, Parnassus Books in Nashville, Tennessee

Champions of the Fox by Kevin Sands
Viking Books for Young Readers / November 2023
Action & Adventure, Children, Fantasy & Magic, Juvenile Fiction, Law & Crime
More Reviews from Flyleaf Books
Oh wow, what an amazing conclusion to a thrilling trilogy! Cal and his squad of thieves have one last mission to carry out before the Eye will let them go… but what if their success means the end of the world as they know it? To thwart the Eye, they must find allies among Spirits, industrialists, and runners for the rival thieves guild. These characters were as electric as ever, and the magic of this world was tantalizing.
Reviewed by Jordan April, Flyleaf Books in Chapel Hill, North Carolina
15 Minutes Before We Really Date, Vol. 1 by Perico
Yen Press / November 2023
Comics & Graphic Novels, Manga, Romance
More Reviews from E. Shaver, bookseller
So Cute! A cute, easy-to-read story about two childhood best friends deciding to date each other and the awkwardness of learning to see each other as more than friends. Animation is super adorable. I will definitely be reading all the next ones that come out and will be crossing my fingers that this gets picked up for an anime series because I will 100% watch it.
Reviewed by Stephanie St. John, E. Shaver Bookseller in Savannah, Georgia

Homegoing by Yaa Gyasi
Vintage / May 2017
Adult Fiction, African American & Black, Banned Books, Historical, Literary, Sagas
More Reviews from E. Shaver, bookseller
Yaa Gyasi reinvents the notion of historical fiction in this haunting, sweeping tale of enslavement, colonialism, power, greed, despair, determination, and hope. I was captivated from page one! She brings to life the human cost of surviving the larger, often brutal, forces driving history through the gripping, visceral story of one extended family. Three hundred years of history come to life: from Ghana to Harlem and more as we follow their fates across continents and through time. A very moving book.
Reviewed by Liz Feeney, E. Shaver, bookseller in Savannah, Georgia

---
Southern Bestsellers
What's popular this week with Southern Readers.
[ See the full list ]
---
Parting Thought
"Who I am, what I am, is the culmination of a lifetime of reading, a lifetime of stories. And there are still so many more books to read. I'm a work in progress."


— Sarah Addison Allen
SIBA | 51 Pleasant Ridge Drive | Asheville, NC 28805
You have received this email because you are currently subscribed to receive The Southern Bookseller Review.
Please click @@unsubscribe_url@@ if you no longer wish to receive these communications.