The Southern Bookseller Review Newsletter for the week of October 11, 2022
The week of October 11, 2022
What to read in October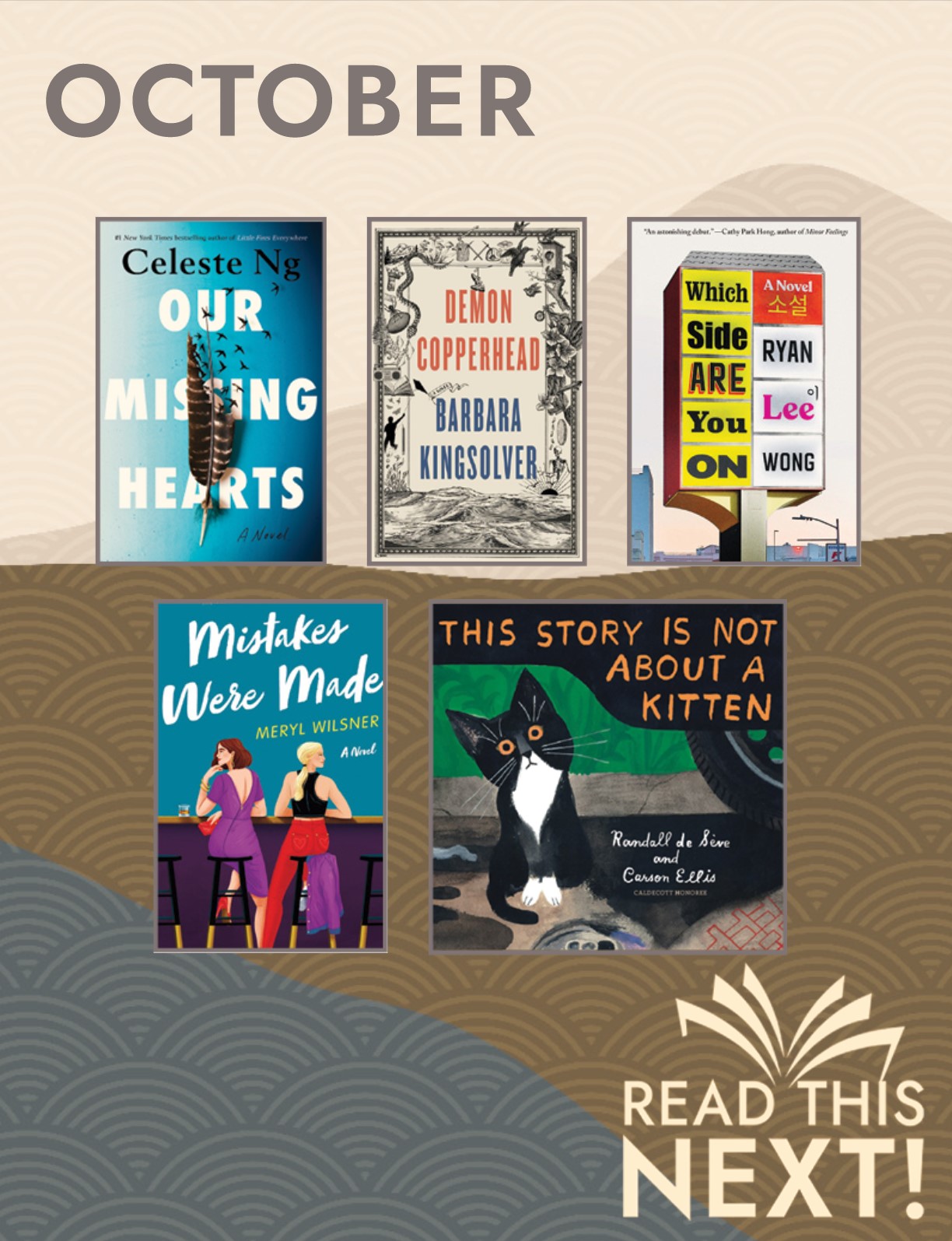 Normally, we announce the new Read This Next! list at the beginning of each month, but the crisis caused by Hurricane Ian pre-empted the October announcement. Readers will have one less week to read all the books on this month's list. But luckily the list includes a children's book, so that one, at least, is a pretty quick read!
The Southern Bookseller Review website publishes a running collection of posts called "Read This Now," reviews of books that booksellers are, well, reading now.
But then there are the books that have not just one or two enthusiastic reviews from Southern booksellers, but five or six, or more. SBR highlights these books in its Book Buzz section, and each month selects five newly published books that are causing the most excitement among booksellers for special attention: these are the books indie booksellers want people to read next. If these books aren't yet on your TBR pile, put them there, right at the top:
Demon Copperhead by Barbara Kingsolver (Harper)
A brilliant retelling of the David Copperfield story from the perspective of the poor son of a teenage mother living in rural Appalachia. From the first sentence, Demon's voice grabs us and takes us on an unforgettable journey through his early life. This novel about a resilient boy develops empathy for families and children so frequently dismissed in the national discourse. It is a masterful American story.
–Lia Lent in Wordsworth Books in Little Rock, Arkansas
Mistakes Were Made by Meryl Wilsner (St. Martin's Griffin)
There is something that happens when you take an age old trope (age-gap or best friend's dad) and make it queer that breathes new life into the story. So many chili peppers for this book. Sheesh.
– Katie Garaby in Parnassus Books in Nashville, Tennessee
This Story Is Not About a Kitten by Randall de Sève, Carson Ellis (Illus.) (Random House Studio)
Many hands make light work, and many hearts working together can accomplish great things. This is not a story about a kitten, its a story about community, the language of caring, and of the incredible powers of kindness group effort can bring.
–Angie Tally in The Country Bookshop in Southern Pines, North Carolina
Our Missing Hearts by Celeste Ng (Penguin Press)
In addition to being an all-too-believable near-future dystopian novel in the tradition of The Handmaid's Tale, Our Missing Hearts is also a subtle call to action to those of us who recognize how essential stories and art are to freedom. Celeste Ng's previous books were terrific. This is her most important work yet.
–Frank Reiss in A Cappella Books in Atlanta, Georgia
Which Side Are You On by Ryan Lee Wong (Catapult)
Which Side Are You On is a dialogue-heavy book with prose that is sharp, thought-provoking, and humorous at times. The reader sees the subjects of race, policing, politics, and privilege through the eyes of a young activist as he pries into his parents' own personal history of activism in their younger days. Filled with interesting anecdotes and hard-learned lessons, this book shows that sometimes personal growth is best attained through deep conversation and self-reflection.
–Stuart McCommon in Novel in Memphis, Tennessee
Read This Now | Read This Next | The Bookseller Directory
---
Read This Now!
Recommended by Southern indies…
Cradles of the Reich by Jennifer Coburn
Sourcebooks Landmark / October 2022
Adult Fiction, Fiction, Historical, World War II
More Reviews from Copperfish Books
This story of three women shines a light on the existence of Nazi breeding programs during the WW2 era. These maternity homes facilitated the births of thousands of "true German babies" to help repopulate and rebuild the "new Germany." I had never heard of this! Gundi, Hilde and Irma each had their own reasons for being involved as they were, and for making the risky decisions that would change the path they were on. Engaging, enlightening and well written!
Reviewed by Cathy Graham, Copperfish Books in Punta Gorda, Florida
Bookseller Buzz
Spotlight on: Shrines of Gaiety by Kate Atkinson
"People often ask how much of myself is in a book. Generally I say all of me and none of me. It's dangerous to associate authors with their work. It's fiction but the more you are engaged with your writing the more the readers are also involved. I think a reader needs the author to be invested wholly in the writing, otherwise it feels a bit like cheating, in a way.
I tend to get emotional towards the end of writing a book, because so much is coming together and the story feels as though it is going to work and do what I wanted it to do. I love endings – beginnings and endings are what I like most in fiction. " ―Kate Atkinson, Interview, Women's Prize for Fiction
What booksellers are saying about Shrines of Gaiety
Kate Atkinson has a wonderful way with words, combining laugh-out-loud wit with unexpected pathos. I gobbled up Shrines of Gaiety – which features a motley crew of characters in 1920s London, including a nightclub boss, a chief inspector intent on weeding out corruption in the police, a teenage runaway in search of fame, and a former WW1 nurse in search of said missing teenager – in just a couple of days.
  ―Jude Burke-Lewis from Square Books in Oxford, Mississippi | Buy from Square Books


Atkinson's latest novel sparkles with all her brilliance. Featuring deft character studies and a lack of sentimentality, this clever timepiece set in the roaring '20s has an atmospheric mix of criminal and cop, ingenue and madame. Seedy SoHo has been the playground for the infamous Coker family for many years, and they must now defend their nightclub empire from attack by mysterious forces. Witty & wise, moving but never mawkish, this is Atkinson at the top of her game. 
―Maggie Robe from Flyleaf Books in Chapel Hill, North Carolina | Buy from Flyleaf Books


Ma Coker, queen of London's night club scene, is released from jail, at the beginning of this novel set against a London full of missing girls, many of whom worked at Coker's clubs. Told from the point of view of Coker and her endless family members; as well as a librarian who works with a police officer to find the girls; and some of the girls themselves. Kate Atkinson is at her most imaginative in this thriller that's almost as wild as the roaring 20s themselves. 
―Anne Peck from Righton Books in St. Simons Island, Georgia | Buy from Righton Books


About Kate Atkinson
Kate Atkinson won the Whitbread (now Costa) Book of the Year prize with her first novel, Behind the Scenes at the Museum. Her 2013 novel Life After Life was shortlisted for the Women's Prize for Fiction and voted Book of the Year for the independent booksellers associations on both sides of the Atlantic. It also won the Costa Novel Award, as did her subsequent novel, A God in Ruins (2015), and was adapted into a critically acclaimed television series in 2022. Her bestselling novels featuring former detective Jackson Brodie became the BBC television series Case Histories, starring Jason Isaacs. She has written twelve groundbreaking, bestselling books and lives in Edinburgh, Scotland.
Poster Girl by Veronica Roth
William Morrow / October 2022
Adult Fiction, Dystopian
More Reviews from E. Shaver bookseller
Most dystopian stories focus on life during the fall of a society and the plans for the uprising/demise of a new regime. 'Poster Girl' tells of the events after the uprising happens, with the added twist of mystery thriller thrown in (because why not). Tempted with the prospect of earning her freedom from life imprisonment, Sonya investigates the whereabouts of a missing girl. During her journey, long-held secrets are uncovered that will have Sonya second-guessing everything she believes.
Reviewed by Jenny Gilroy, E. Shaver bookseller in Savannah, Georgia

---
---
Justice of the Pies by Maya-Camille Broussard
Clarkson Potter / October 2022
Adult Nonfiction, African American & Black, Cooking, Courses & Dishes, Pies
More Reviews from Fountain Bookstore
What a beautiful cookbook! It's the perfect blend of stunning visuals, original and well-written recipes, dynamite prose in the talky bits, plus a strong social-justice mission. Broussard presents her sweet and savory recipes from the point-of-view of a Black, hearing-impaired, small business owner who has been giving back to her Chicago community through teaching, donating, and empowering others. Between the recipes (and inspiring many) are profiles of people she calls "Stewards": others who strive for equity. If that's not enough inspiration, how about Salted Caramel Peach Pie, Chicken & Biscuit Pot Pie, Churro Whoopie Pies! Honoring her public defender late father's memory, this book also makes a great family gift.
Reviewed by Kelly Justice, Fountain Bookstore in Richmond, Virginia
Prince of Song & Sea by Linsey Miller
Disney Press / October 2022
Action & Adventure, Boys & Men, Romance, Young Adult, Young Adult Fiction
More Reviews from Fiction Addiction
We all know the story of the little mermaid who fell in love with a prince, made a deal with a sea witch and needs a kiss so she can remain a human. However, what do we know about the handsome prince? What is his part of this story? In the Prince of Song and Sea, Lindsey Miller shows you the life of Prince Eric. His friends, his adventures, and his curse. If you loved Littler Mermaid, you will be delighted to read Prince of Song and Sea with its familiar storyline, recognizable characters, and a deeper dive into a well-loved story.
Reviewed by Gretchen Shuler, Fiction Addiction in Greenville, South Carolina

Read This Next!
Books on the horizon: Forthcoming favorites from Southern indies…
Our Missing Hearts by Celeste Ng
 Penguin Press / October 2022
Adult Fiction, Asian American, Family Life, Literary
More Reviews from South Main Book Company
An October 2022 Read This Next! Title
Oh, I hope and pray this is the runaway blockbuster of the year, as it deserves to be. Dystopian, centered around concept the US government can re-home children on the basis of anonymous reports of seditious parental behavior. One woman uses poetry to combat this, and the rampant anti-Asian hate that is taking over society. With hero librarians behind the scenes attempting to keep fractured family ties documented – SO MUCH LOVE FOR THIS. ALL OF THIS. I AM SO HERE FOR IT. Celeste Ng is now officially a literary force. I'm calling Our Missing Hearts my one and only official book recommendation of 2022 – no others will come close.
Reviewed by Alissa Redmond, South Main Book Company in Salisbury, North Carolina

Southern Bestsellers
What's popular this week with Southern Readers.
[ See the full list ]
Parting Thought
"The beginning is the word and the end is silence. And in between are all the stories."


– Kate Atkinson, Human Croquet: A Novel
SIBA | 51 Pleasant Ridge Drive | Asheville, NC 28805
You have received this email because you are currently subscribed to receive The Southern Bookseller Review.
Please click @@unsubscribe_url@@ if you no longer wish to receive these communications.