The Southern Bookseller Review Newsletter for the week of April 26, 2022
April 26, 2022
Join The Celebration!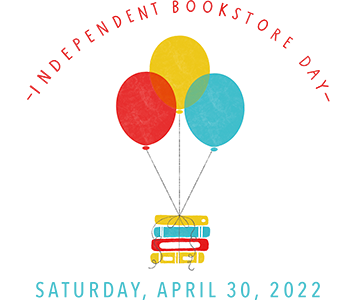 Saturday is Independent Bookstore Day!: A one-day national party that takes place at indie bookstores across the country on the last Saturday in April. Every store is unique and independent, and every party is different. But in addition to authors, live music, cupcakes, scavenger hunts, kids events, art tables, readings, barbecues, contests, and other fun stuff, there are exclusive books and literary items that you can only get on that day. Not before. Not after. Nowhere else.
Find a participating bookstore near you
"Indie bookstores are the heart of our industry and we must continue to support them in the same way they support and champion books." –Angie Thomas, author of The Hate U Give, 2022 Independent Bookstore Day Ambassador
Independent Bookstore Day will launch with the keynote event, An Evening with Angie Thomas on April 27, 2022 at 7:00 PM ET on Zoom. Pay-what-you-can tickets benefit We Need Diverse Books.
Read This Now | Read This Next | The Bookseller Directory
---
Read This Now!
Recommended by Southern indies…
BUY THIS BOOK!
Love, Hate & Clickbait by Liz Bowery
MIRA / April 2022
Adult Fiction, LGBTQ+, Romance, Romantic Comedy
More Reviews from Wordsworth Books
After their boss makes a homophobic gaffe and a compromising photo of them goes viral, cutthroat political consultant Thom Morgan and down-on-his-luck data analyst Clay Parker pretend to be in a relationship to salvage this presidential campaign that's barely gotten off the ground. This fun and heartfelt romcom is great for political wonks who want a fast-paced romp and political cynics who have seen the messy underbelly of campaigns. Thom and Clay's "will they, won't they" kept me guessing until the wedding bells rang.
Reviewed by Karen Fletcher, Wordsworth Books in Little Rock, Arkansas
Bookseller Buzz
Spotlight on: Cover Story by Susan Rigetti
Rigetti refuses to let her past define her when she has so many other stories to tell and versions of herself to be. She doesn't buy into the idea that each life has a single narrative or meaning. "The place where it's interesting is what it takes to get from one stage of your life to another," she says. "The trick is finding a way to prove to the world that you are capable of doing something new." —Interview in Time
What booksellers are saying about Cover Story
This book was unputdownable. I raced through it, desperate to discover what Cat was up to and how Lora played a part, and goodness, was I in for a surprise! I thoroughly love the format of diary entries, emails, texts, and memos, which contributes to the compulsive readability of this book. And the cover art, ahhh, it's perfection! Well done! ―Jill Naylor from Novel in Memphis, TN
Buy from Novel


After a difficult semester, Lori was thrilled to land the internship of her dreams at ELLE magazine; when a celebrity editor befriends her and asks her to ghostwrite her book, it seems too good to be true…and that's where the long con begins. I loved that Susan Rigetti wove this web of lies together from journal entries, FBI reports, and email, giving the reader a backstage pass to watch the drama unfold! .   ―Beth Seufer Buss from Bookmarks in Winston-Salem, NC
Buy from Bookmarks


Susan Rigetti spins an intriguing tale of suspense and deceit with a surprising and masterful ending..   ―Aubrey from Wordsworth Books in Little Rock, AR
Buy from Wordsworth Books


Susan Rigetti
Susan Rigetti is an author, screenwriter, and the former technology op-ed editor at the New York Times. She has been named a "Person of the Year" by TIME, The Financial Times, and the Webby Awards, and has appeared on Fortune's "40 Under 40" list, Vanity Fair's New Establishment List, Marie Claire's New Guard list, the Bloomberg 50, the Upstart 50, the Recode 100, and more. She is the author of a book on computer programming that has been implemented by companies across Silicon Valley, and the critically acclaimed memoir, Whistleblower.
BUY THIS BOOK!
Nettle & Bone by T. Kingfisher
Flatiron Books / April 2022
Adult Fiction, Fairy Tales, Folk Tales, Legends & Mythology
More Reviews from Haunted Book Shop
A wonderfully bent fairy tale from T. Kingfisher, the princess is not out to marry the prince, instead she's out to kill him for his sins. This is a darker-than-usual Kingfisher title–the wit and sharp writing is there, but usual laughs she provides aren't nor should they be. This is not a story where laughter would be right. It's a story about endurance and necessity in a situation where there's precious little to laugh about. Highly recommended dark fantasy for the genre-savvy who want their fairy tale with blood and bite to it.
Reviewed by Alex Mcleod, The Haunted Book Shop in Mobile, Alabama
---
---
BUY THIS BOOK!
Linea Nigra by Jazmina Barrera
 Two Lines Press / May 2022
Adult Nonfiction, Biography & Autobiography, Women
More Reviews from Avid Bookshop
This slim volume navigates Barrera's pregnancy, birth, and those first shattering days of early motherhood. In snippets reminiscent of the short breaks in between wakings and feedings, Barrera interweaves her reading life and lived life, creating a poignant primer that will be a kindred comfort and stalwart courage to any reader. Linea Nigra is a rich record of a life steeped in feminist art, revealing intersections in the body and the world; the individual and the collective.
Reviewed by Hannah DeCamp, Avid Bookshop in Athens, Georgia
BUY THIS BOOK!
The Ghosts of Rose Hill by R. M. Romero
Peachtree Teen / May 2022
Jewish, Novels in Verse, Paranormal, Romance, Young Adult
More Reviews from Books & Books
Lovers of history, poetry, and myth will find themselves in awe of R.M. Romero's young adult debut. The story of Ilana Lopez, a Jewish Latina from Miami sent to stay with her aunt in Prague, is inspired by the author's very real time spent restoring Jewish cemeteries in Eastern Europe, and rings true because of this even through its layers of story magic. The Ghosts of Rose Hill is by turns glittering, dark, enchanting and haunting.
Reviewed by Cristina Russell, Books & Books in Coral Gables, Florida

BUY THIS BOOK!
The Prince of Nowhere by Rochelle Hassan
HarperCollins / May 2022
Children, Fantasy & Magic
More Reviews from Story on the Square
I finished this book in three days, and it did NOT feel like it took me that amount of time. It felt like time stood still as I read through the whole book, which I guess in kind of ironic, considering the book's themes. I thoroughly enjoyed this book. The characters were well written and captivating. The world was both mysterious and filled to the brim with lore. And the themes hit hard and were still realistic; I truly believed in every characters motivation and cause. I would happily read a sequel or prequel to this book, or even something entirely unrelated, if it was from this author. The way the world was described and the author's writing style was both unique and perfectly fitting for this book. A wonderful read, and I would gladly spend my time reading this book again!
Reviewed by Mandolin Moore, Story on the Square in McDonough, Georgia

Read This Next!
Books on the horizon: Forthcoming favorites from Southern indies…
BUY THIS BOOK!
A Duet For Home by Karina Yan Glaser
Clarion Books / April 2022
Children, Homelessness & Poverty, Social Themes
More Reviews from Flyleaf Books
An April 2022 Read This Next! Title
This thoughtful & fast-paced book will open children's eyes to the plight of homeless families. It also demystifies the appeal of learning to play a musical instrument. Overall, it's a well-crafted celebration of friendship and how kindness & determination can enact real change.
Reviewed by Maggie Robe, Flyleaf Books in Chapel Hill, North Carolina

Southern Bestsellers
What's popular this week with Southern Readers.
[ See the full list ]
Parting Thought
"To feel most beautifully alive means to be reading something beautiful, ready always to apprehend in the flow of language the sudden flash of poetry."


– Gaston Bachelard
SIBA | 51 Pleasant Ridge Drive | Asheville, NC 28805
You have received this email because you are currently subscribed to receive The Southern Bookseller Review. Please click @@unsubscribe_url@@ if you no longer wish to receive these communications.