The Southern Bookseller Review Newsletter for the week of August 8, 2023
[Note from the editor: an error in last week's newsletter paired the wrong review with Wendy McNaughton's How to Say Goodbye. The correct review is included below.]
The week of August 8, 2023
What can you find at your local bookstore?
This week indie booksellers from the South and Mid Atlantic held their annual conference in Arlington, Virginia. Is there any group of people more fun and with more exciting ideas than these?
Among the many things that happen at the conference, booksellers like to trade things — book recommendations of course, but also good ideas, favorite stories, news and gossip. And they love to show off what their stores are doing, so there is always a display of "store swag" featuring the things stores create for their own customers and communities. Booksellers swap things with each other book bags for puzzles, coffee cups for t-shirts. There is a definite theme at this year's event.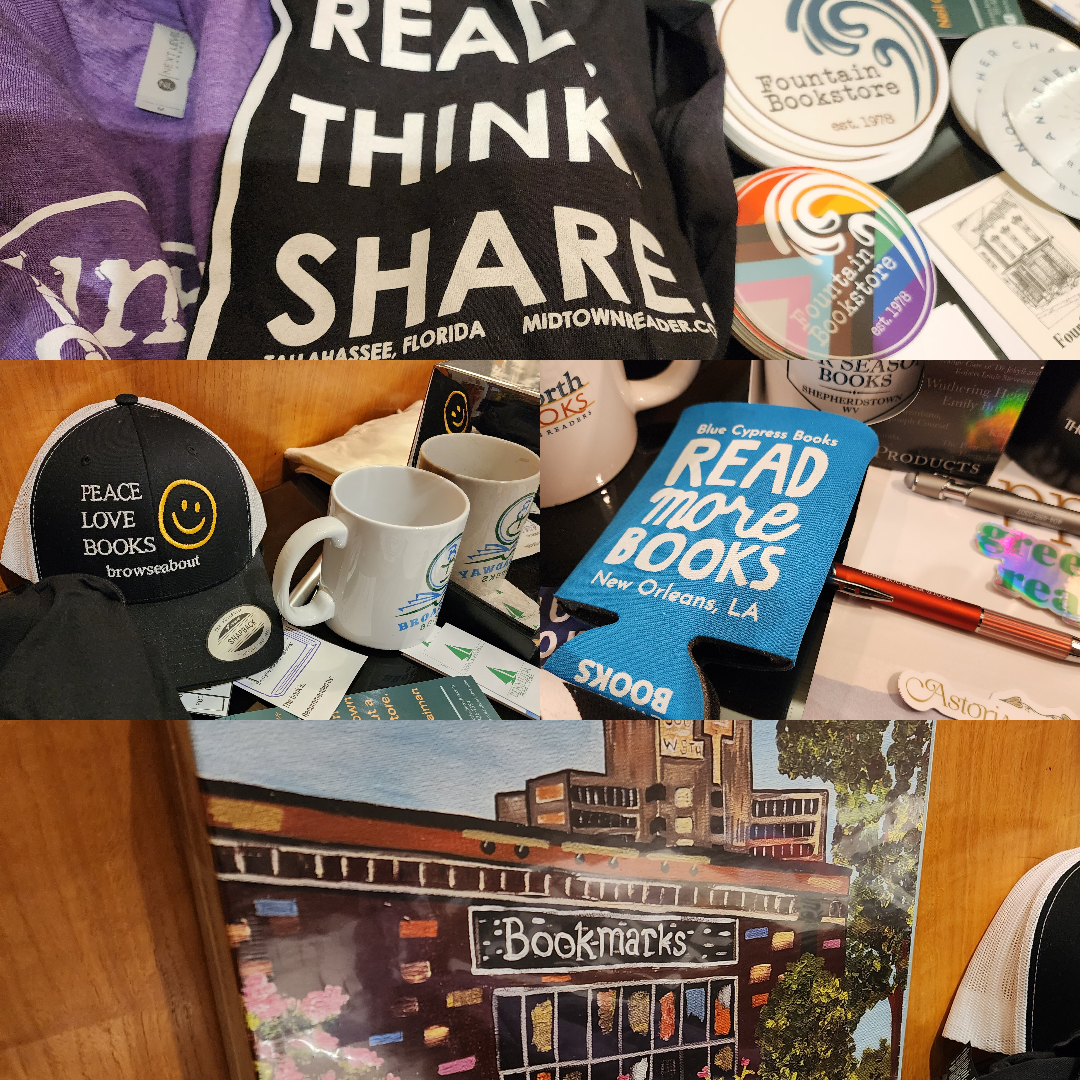 What can you find at your local bookstore?
Read This Now | Read This Next | Book Buzz | The Bookseller Directory
---
---
---
Read This Now!
Recommended by Southern indies…
King of the Armadillos by Wendy Chin-Tanner,
Flatiron Books / July 2023
Adult Fiction, Asian American, Family Life, Fiction, Historical
More Reviews from Garden District
Victor's life is turned upside down at the young age of 15. Diagnosed with Hansen's disease (leprosy), he's forced to leave his family and move to Carville, LA to a federal leprosarium. Scared and alone, he wants to flee. However, with the wide and varied cast of characters in his new home at Carville, he finds hope, love, and tragedy…but always hoping for the elusive cure. When Victor's time at Carville nears the end, difficult choices must be made. You'll find you are holding your breath at many points of this story. I could not put it down.
Reviewed by Amy Loewy, Garden District Book Shop in New Orleans, Louisiana
Bookseller Buzz
Spotlight on: Crook Manifesto by Colson Whitehead
"I think, you know, I was coming of age in the late '70s and consuming TV and movies, and that was, like, you know, plenty of time for the revolutionary fervor of Black national thought of the late '60s, early '70s to trickle into, you know, pop culture…So it's through pop culture, and obviously, the history of the Black Panther Party was not being taught in my high school. I think – I assume most high schools. And now it's, you know, I think, illegal to teach Black history in certain states and cities. So it wasn't till college I, you know, got sort of more grounding on some of the real arguments and what different aspects of the Civil Rights Movement actually meant and what they did." ― Colson Whitehead, Interview NPR Fresh Air
What booksellers are saying about Crook Manifesto
Whitehead continues his epic series started in Harlem Shuffle with Crook Manifesto exploring the hot mess that is 1970s Harlem. After being square for years, Ray Carney gets back in the game while trying to get Jackson 5 concert tickets for his daughter. This book is even more fun than the first with a cast of characters including fire-obsessed criminals, crooked politicians, dirty cops, and the cast and crew of a Blaxploitation film. Highly recommend.
  ― Rachel Watkins from Avid Bookshop in Athens, GA | Buy from Avid Bookshop


Take a trip to 1971, when times were turbulent. Ray Carney is in the black market with stolen furniture. That is until he turns to the straight and narrow. He will not make that mistake again he says. Well his precious daughter needs tickets to the Jackson 5 and what is a dad to do? This darkly funny tale searching for the meaning of family, is remarkable. Colson is just a phenomenal author.
  ― Suzanne Lucey from Page 158 Books in Wake Forest, NC | Buy from Page 158 Books


Ray Carney, the protagonist of Harlem Shuffle, is the perfect vehicle for Colson Whitehead's masterful storytelling, and I'm thrilled that he's back, in Crook Manifesto's 1970s New York City. The author has created a sharp, endearing, and morally complicated character, but the city itself, in its decaying glory, is also a star here.
  ― Anne Peck from Right on Books in St Simona Island, GA | Buy from Right on Books


About Colson Whitehead
Colson Whitehead is the #1 New York Times bestselling author of eleven works of fiction and nonfiction, and is a two-time winner of the Pulitzer Prize, for The Nickel Boys and The Underground Railroad, which also won the National Book Award. A recipient of MacArthur and Guggenheim fellowships, he lives in New York City.
Sunshine Nails by Mai Nguyen
 Atria Books / July 2023
Adult Fiction, Family Life
More Reviews from Snail on the Wall
Jessica Tran returns home from LA after a bad breakup hoping to get back on her feet, but things are just as crazy at home: her parents' nail salon is facing competition from an Instagram-worthy gentrified salon across the street. All five Tran family members — Jessica, her workaholic brother, her immigrant parents, and recently-arrived cousin — get POV chapters as they try to figure out what's next and how to keep Sunshine Nails afloat. With a light tone, stylized characters, and page-turning short chapters that read faster than quick-dry polish can set, Sunshine Nails is a fun read, even if the ending feels a little rushed and smudged.
Reviewed by Melanie, The Snail on the Wall in Huntsville, Alabama
---
---
The Many Lives of Mama Love by Lara Love Hardin
Simon & Schuster / August 2023
Adult Nonfiction, Biography & Autobiography, Personal Memoirs
More Reviews from Main Street Reads
An August 2023 Read This Next! Book
This is the most "JRun-put-downable" piece of non-fiction I've ever read. A brash and well-written account that -without being trivial- allows hope and redemption to spring from addiction, incarceration and shame, liberally sprinkled with the power of the written word to empower and invoke change. Looking forward to discussing this work as it also shines a harsh light on the injustice system and one can hope, bring more of us to seek improvement. Truly an important and unique book, much applause!
Reviewed by Shari Staunch, Main Street Reads in Summer ville, South Carolina
How to Say Goodbye by Wendy McNaughton
Bloomsbury Publishing / July 2023
Adult Nonfiction, Bereavement, Death, Family & Relationships, Grief
More Reviews from Pearl's Books
This is a beautiful little book. It is partly a helpful guide for folks going through losing a loved one, partly a meditation on how to live. Her drawings are simultaneously simple, emotional, and direct. Words are used sparingly, which lends them more value and meaning. I will keep this book, and buy multiple copies to give away to friends and family. The resource guide in the back is also extremely helpful!
Reviewed by Daniel Jordan, Pearl's Books in Fayetteville, Arkansas
Bonesmith by Nicki Pau Preto
Margaret K. McElderry Books / July 2023
Dark Fantasy, Fantasy, Young Adult Fiction
More Reviews from Square Books
Wren wants nothing more than to be a valkyr, a highly trained warrior who protects reapyrs as they make sure the dead stay dead. But when a betrayal sabotages her qualifying trial, Wren finds herself disgraced and shunned with only one chance to redeem herself: rescue a prince from a wasteland of the dead. Harrowing and thrilling, with a richly imagined world and magic system, Bonesmith is the start of a duology that should be at the top of every fantasy fan's reading list.
Reviewed by Charlie Williams, Square Books in Oxford, Mississippi

You Stole My Name by Dennis McGregor
Blue Star Press / August 2023
Animals, Children, Juvenile Fiction
More Reviews from Bookmarks
Absolutely astoundingly gorgeous illustrations in this charming picture book that celebrates the natural world. A Kangaroo Rat meets a Kangaroo, a Spider Monkey greets a monkey; each of these mini poems and paintings celebrates the vibrancy and diversity of life on our planet and is a perfect gift for kids obsessed with animals.
Reviewed by Caleb Masters, Bookmarks in Winston-Salem, North Carolina

Beloved by Toni Morrison
 Vintage / June 2004
Adult Fiction, Banned Books, Literary
More Reviews from Epilogue Books
In 1992, Toni Morrison said "In this country, American means white. Everybody else has to hyphenate." This statement stands true to this day, as demonstrated when Disney executives and Adam Sandler's Waterboy joined forces to make the film adaption of Beloved a box office bomb. Regardless of how the American public feels about the movie, the novel is a gorgeous, vital, and absolutely timeless work. Beloved is one of the best ghost stories ever written (inspired by reports of a slave mother who killed her child rather than return her to slavery) partly because the Atlantic Slave Trade is teeming with boundless horrors to work with. The guts of American history distend with crimes committed against Black bodies, and Morrison tears them out for all to see. Intergenerational trauma, systemic torture, and fractured families occupy these fearsome pages, and I dare you to look away.
Reviewed by Terrance Hudson, Epilogue Books Chocolate Brews in Chapel Hill, North Carolina

Southern Bestsellers
What's popular this week with Southern Readers.
[ See the full list ]
Parting Thought
"Libraries will get you through times of no money better than money will get you through times of no libraries."


— Anne Herbert
SIBA | 51 Pleasant Ridge Drive | Asheville, NC 28805
You have received this email because you are currently subscribed to receive The Southern Bookseller Review.
Please click @@unsubscribe_url@@ if you no longer wish to receive these communications.